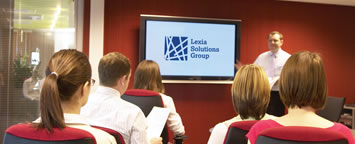 Asbestos Awareness Training
"Asbestos training is a legal requirement and if you work on buildings built or refurbished before the year 2000, asbestos could be present. You will need asbestos training so you know how to avoid the risks" (Health and Safety Executive 2009).
---
Classroom Based Asbestos Awareness Training
Our two main courses covering asbestos awareness are:
Asbestos Awareness – half day, accredited course
Asbestos Awareness – Duty to Manage (HSG264) – one day
These courses will help you and your staff understand your obligations under the Duty to Manage asbestos regulations in light of recent changes to asbestos surveys made by the Health and Safety Executive (HSE).
The changes make it even more important that everyone involved in environmental compliance and managing buildings fully understands their legal obligations. We are accredited by UKATA to deliver courses at levels A, B and C, depending on the requirements of your organisation and the extent to which they deal with asbestos related issues.

To help building mangers, FMs and others responsible for health and safety and environmental compliance to keep pace with the changes and understand how it effects them, Life Environmental Services has developed a training course covering the key issues. Not only does it cover the changes to the regulations, it includes a "back to basics" refresher on asbestos and its management, an area which has traditionally caused some confusion. The outline course content is:
Understanding asbestos
Asbestos in buildings
Health effects upon the body
UK legislation
Introduction to the "duty to manage" and executive responsibility
Introduction to asbestos surveying and the HSG264
Assessment, which will include formative/summative activity throughout
Who would benefit: anyone involved in managing asbestos including health and safety managers, facilities managers, environmental managers and property managers and is suited for people with a wide range of experience.
For more information on these and other training courses, please email enquiries@lifeenviromental.com or call Tracey Crabtree on: 01246 263370
Category A Asbestos Awareness courses in Leeds
Open to all on a first come, first served basis, these half day courses (9am to 1pm) are UKATA accredited and are an ideal introduction for anyone who needs to know more about asbestos and how it needs to be managed.
28th September
29th October
Click here for more information and to access our booking form.
---
E-Learning Package for just £35 per person

Life Environmental Services, working in conjunction with Virtual College, one of the UK's leading suppliers of e-learning, has developed an e-learning package to help you remain compliant with legislation and ensure you and your building users are properly protected from a substance that kills almost 40 people a week.

This training is has been designed to complement traditional, classroom based training and enable you to reach people who need awareness training in a cost-effective, timely manner which can be completed at a time and pace convenient to each learner.
In addition to trades such as builders, joiners or roofers, the training is aimed at anyone who needs to be aware of asbestos and asbestos related dangers such as facility managers in schools, housing organisations, hospitals, offices or shops.
Accreditation: The content of this course has been independently certified as conforming to universally accepted Continuous Professional Development (CPD) guidelines
Certification: On completion of this course you will be able to download a Virtual College certificate.
Duration: Approximately 2-3 hours. The length of time taken depends entirely on how quickly you can study and absorb the material. You can proceed as quickly or slowly as you like, and there is no limit on how long you can take to do the course.