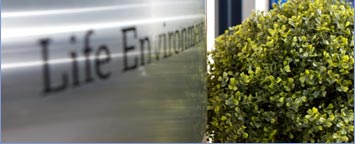 Site Map
Our vision is to provide a comprehensive approach to safeguarding and improving the health and safety of millions in their homes, workplace and leisure environments through the effective delivery of environmental compliance. We seek to continually improve the value of the service we provide through improvements in our knowledge, techniques and skills by harnessing advancing technologies and unfolding legislation. This principle is ingrained within the Life Environmental Services division and is manifested in our Research & Development and cascaded to all our employees in their ongoing training and development.
Our ethos is to enable companies to achieve compliance cost effectively and efficiently. This is central to our delivery structure of applying a proactive, diligent and methodical approach. After all, not all types or forms of substances, such as asbestos, pose the same level of risk; some may require no treatment at all. Our operating ethos gives our clients full confidence in their ability to identify and mitigate ongoing risks.
Our strategy is to provide a comprehensive approach to health & safety, training and environmental compliance.